The Water Department of North Pekin was recently recognized for achieving 30 consecutive years of compliance with the Illinois Fluoridation Act. Samples are taken from 1756 water departments statewide on a monthly basis and tested at the certified lab according to the Public Health Department standards. The North Pekin Water Department is tied for 5th place out of the 1756 departments for having perfect compliance and leading Tazewell county, currently in 1st place.
The Illinois Department of Public Health sent an award letter stating the following:
The Illinois Department of Public Health officially recognizes and strongly commends North Pekin Water Department for maintaining perfect compliance in 2020 for 30 consecutive years in accordance with the state of Illinois Fluoridation Law.
Maximum oral health benefits are provided to the public with the levels of fluoride are maintained within the optimal range. Community Water Fluoridation is a highly effective disease prevention program. Water fluoridation works by strengthening tooth structure and thus reducing tooth decal and promoting oral health across the lifespan. Centers for Disease Control and Prevention states that "providing optimally fluoridated water to US Communities for one year saves $6.5 B in dental treatment costs and offers an average return on investment of $20 for every $1 spent."
In addition, water operators like those at North Pekin Water Department who maintain the correct level of floudide in the drinking water do more in preventing oral health problems in a community than the combined efforts of all oral health professionals. The Illinois Department of Public Health acknowledges the expertise and diligence of your water department and encourages you to share this recognition with the governing body of your community.
Congratulations to you and your water supply for a job well done. Keep up the excellent work!
Public works head, Frank Hardy, attributes the award to always keeping a close eye on levels and being consistent in monitoring the numbers. The award can be seen on display at the North Pekin Village Hall.
Water department employees pictures left to right-
Andrew Jackson, Frank Hardy and Russ Pierce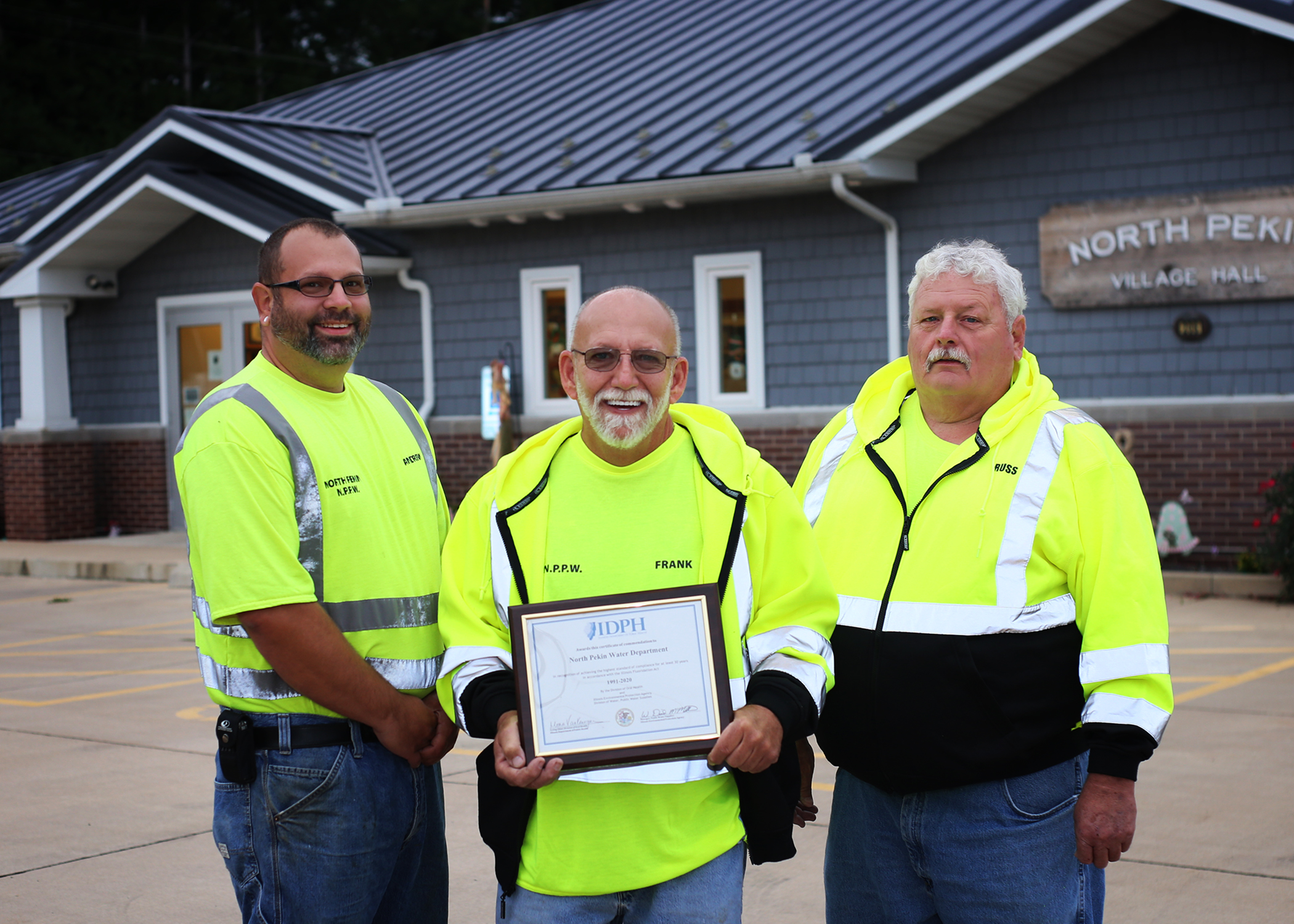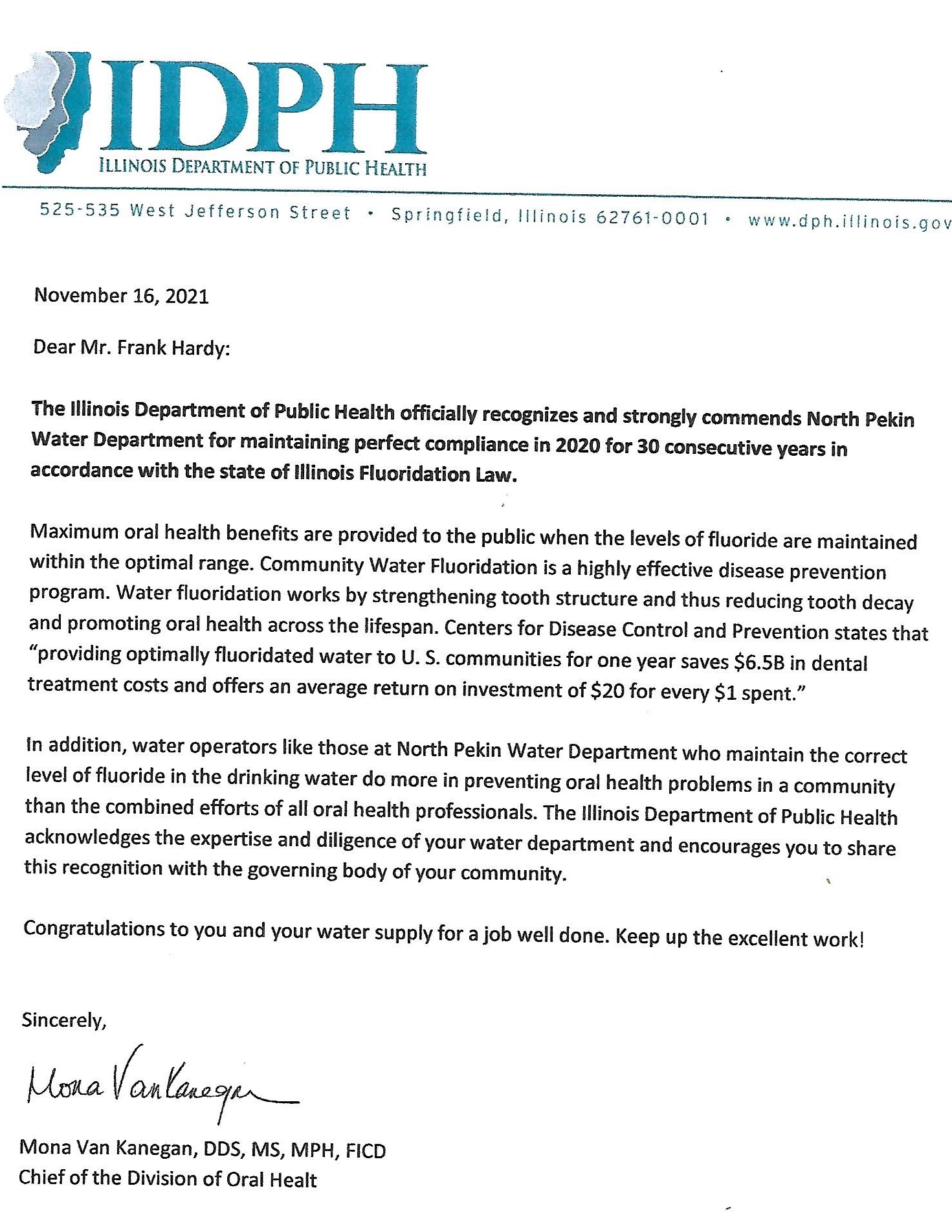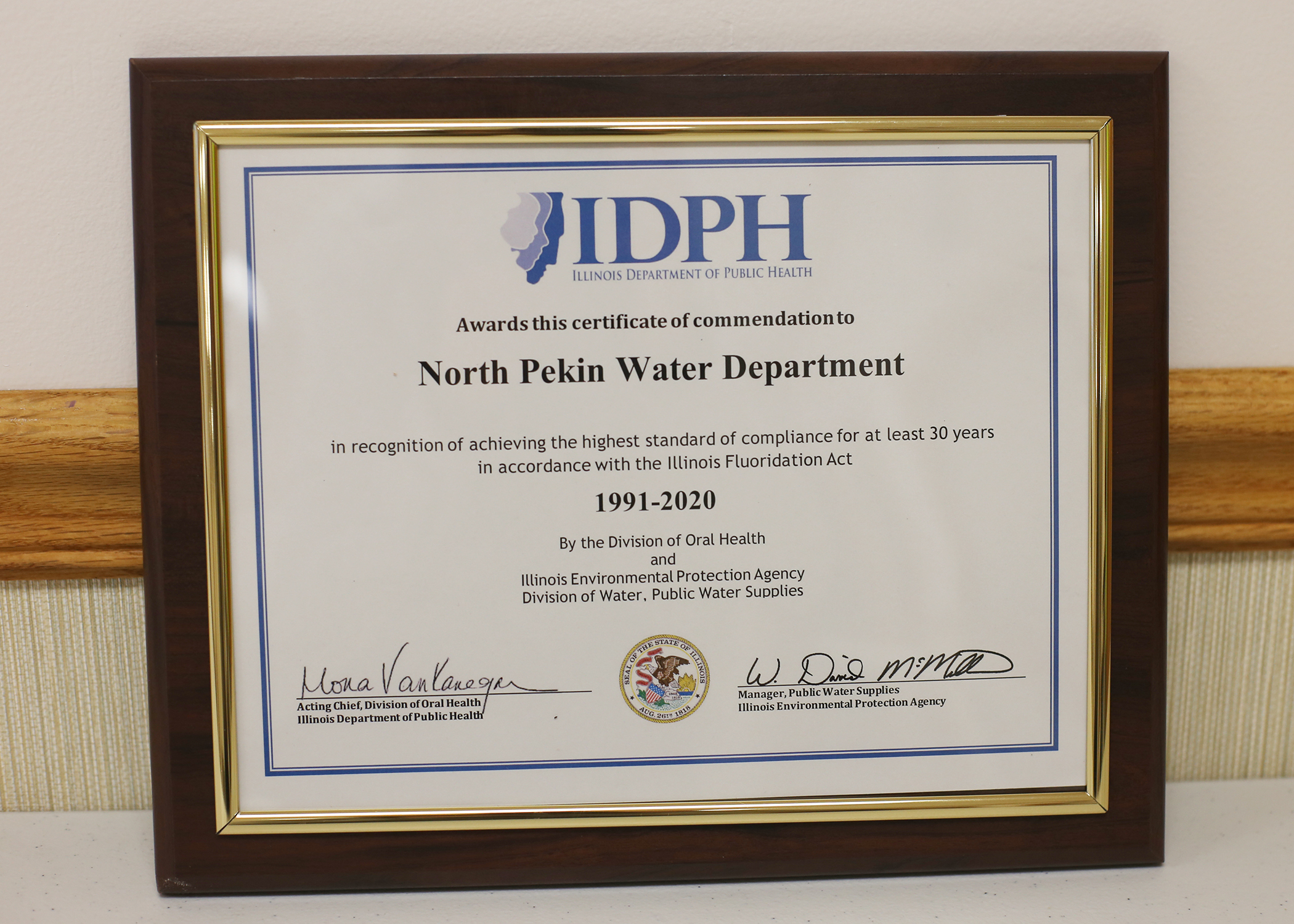 The Water and Sewer Committee chair person is Terri Plemons. You can contact her @ (309)613-4525 or Emailet092471@gmail.com.
You can always contact the office @ (309)382-3464 or Email northpekinvillage@gmail.com